20TH MEETING OF THE VIENNA ENERGY CLUB (VEC)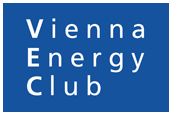 The Vienna Energy Club brings together Vienna-based organisations from the energy sector for the purpose of closer cooperation on an informal basis. The Vienna Energy Club was founded in 2009 on the initiative of Mr. Slavtcho Neykov, former Director of the Secretariat of the Energy Community of South Eastern Europe.
WEC Austria has been a member of the Vienna Energy Club since the end of November 2018 and chaired the Vienna Energy Club in the first half of 2019.
The meeting of the Vienna Energy Club on 25 June 2019 was held under the motto "Young Energy Leaders Future Perspectives".

In the first part of the event, the WEC Austria Young Energy Professionals presented their work in the field of future developments in the energy sector. The speakers were
Mrs. Raphaela Reinfeld-Spadt on the Austrian climate and energy strategy "#mission2030",
Mr. Bernhard Fürnsinn and Mr. Wolfgang Richter on the topic of "Storage & Networks",
Mr. Alan Voldřich, MSc. on "Industrial Processes" and
Mr. Johannes Wall on the subject of "Buildings".
In the second part of the event Mr. Christoph Menzel (WEC Germany) spoke about the energy scenarios of the World Energy Council.