ENERGY SUPPLY SOLUTIONS AT NEIGHBORHOOD LEVEL
During an event held at the Climate and Energy Fund on September 22, 2021, the Young Energy Professionals (YEP) Austria presented the results of the working group 'Buildings and Neighborhoods'.
After the introductory and welcoming words of Mag. Sonja Buttenhauser, Finance Manager of the Climate and Energy Fund, the Secretary General of the World Energy Council Austria, Dr. Robert Kobau underlined the success of the YEP program of WEC Austria. Dr. Kobau thanked all supporters and partners, without whose help this success would not be possible. Milica Vujačić, BSc. introduced herself as the new YEP coordinator and provided a brief overview of WEC Austria's future programs.
The presentation of the results of the working group 'Buildings and Quarters' was made by FH-Prof. Ing. Momir Tabakovic PhD. MSc., FH Technikum Wien as well as Dipl.-Ing. Herbert Hemis, MA 20 – Energy Planning. They refer to the building sector as a central lever to achieve the climate goals of Paris. In the course of the implementation of the reduction of greenhouse gas emissions, the promotion of renewable energy sources and the increase of energy efficiency, the building sector is of particular importance. In addition, integral energy planning can make a significant contribution to achieving the climate and energy goals. The areas of mobility, electricity and heat supply are increasingly intertwined at the level of buildings. Decarbonization must not stop at buildings or be limited to electricity or heat supply. Only in combination can the efficiency of systems be increased by balancing the loads between different building types and their uses.
The presentation of the working group results was followed by a prominent panel discussion with the participation of
Mag. Robert Grüneis, Managing Director Aspern Smart City Research
Dipl.-Ing. Herbert Hemis, City of Vienna Energy Planning (representing the YEP working group "Buildings and Neighborhoods")
Mag. Martin Lang, Head of Smart Infrastructure Regional Solutions & Services Siemens
Simon Schneider, MSc., research associate and lecturer FH Technikum Wien
rounded off the conference.
The moderation was done by DDipl.-Ing. Dr.techn. Johannes Wall BSc., Ed. Züblin AG.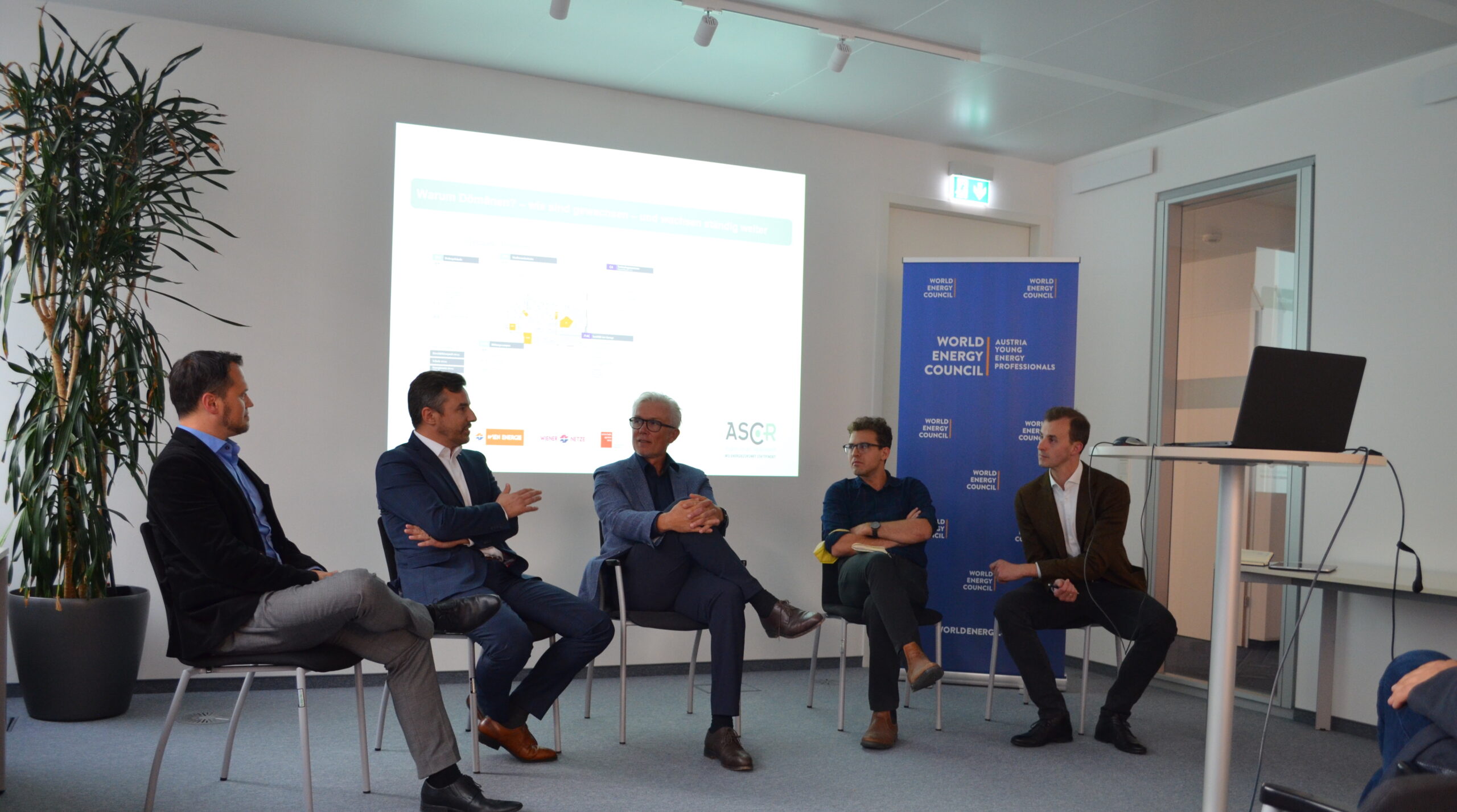 We would like to thank the Climate and Energy Fund for allowing us to hold the event on their premises!
You can access the final report here or via the adjacent link.
A printed version can be obtained free of charge from the secretariat of WEC Austria.