SMART CITY URBAN LAKESIDE | ASPERN VISITED BY YEPs
On April 13th, 2022, the World Energy Council Austria, together with Aspern Smart City Research (ASCR), organised an event on the topic of "Smart City Aspern – a role model for urban development and redevelopment" in the Urban Lakeside. The focus was on decarbonisation measures of the City of Vienna and the dominant challenge of climate-neutral existing buildings.
After the welcome by Mr. Robert Grüneis, Managing Director of ASCR and Dr. Robert Kobau, Managing Director of WEC Austria, Ms. Milica Vujačić, BSc, YEP Coordinator WEC Austria, introduced the keynote speakers. Mr. Oliver Juli from the ASCR programme office provided an insight into the implementation project of the training centre ÖFB, which was developed as an energy rough concept of ASCR. Subsequently, DI Dr. Peter Holzer, energy planner and researcher, presented concepts of climate-neutral heating and cooling supply at neighbourhood level.
The keynote presentations served as a discussion impulse for the subsequent panel discussion, which was moderated by MMag. Raphaela Reinfeld-Spadt, Head of Innovation and Research at Energie Burgenland and YEP alumna of the first cycle. The top-class panel consisted of DI Bernhard Jarolim, City Planning Director of the City of Vienna, Mag. Robert Grüneis, Managing Director ASCR, DI Dr. Peter Holzer, energy planner and researcher, FH-Prof. Ing. Momir Tabakovic, PhD. MSc., FH Technikum Wien and DI Herbert Hemis, Energy Planning City of Vienna.
The panel discussion focused, among other things, on the technological scalability of innovative building concepts that are being researched in the Smart City Aspern. The challenges identified were the coordinated expansion and decarbonisation of district heating, the handling of process heat and the need for changes in building law for existing buildings. The necessary networking between young and old as well as putting people at the centre were also emphasised.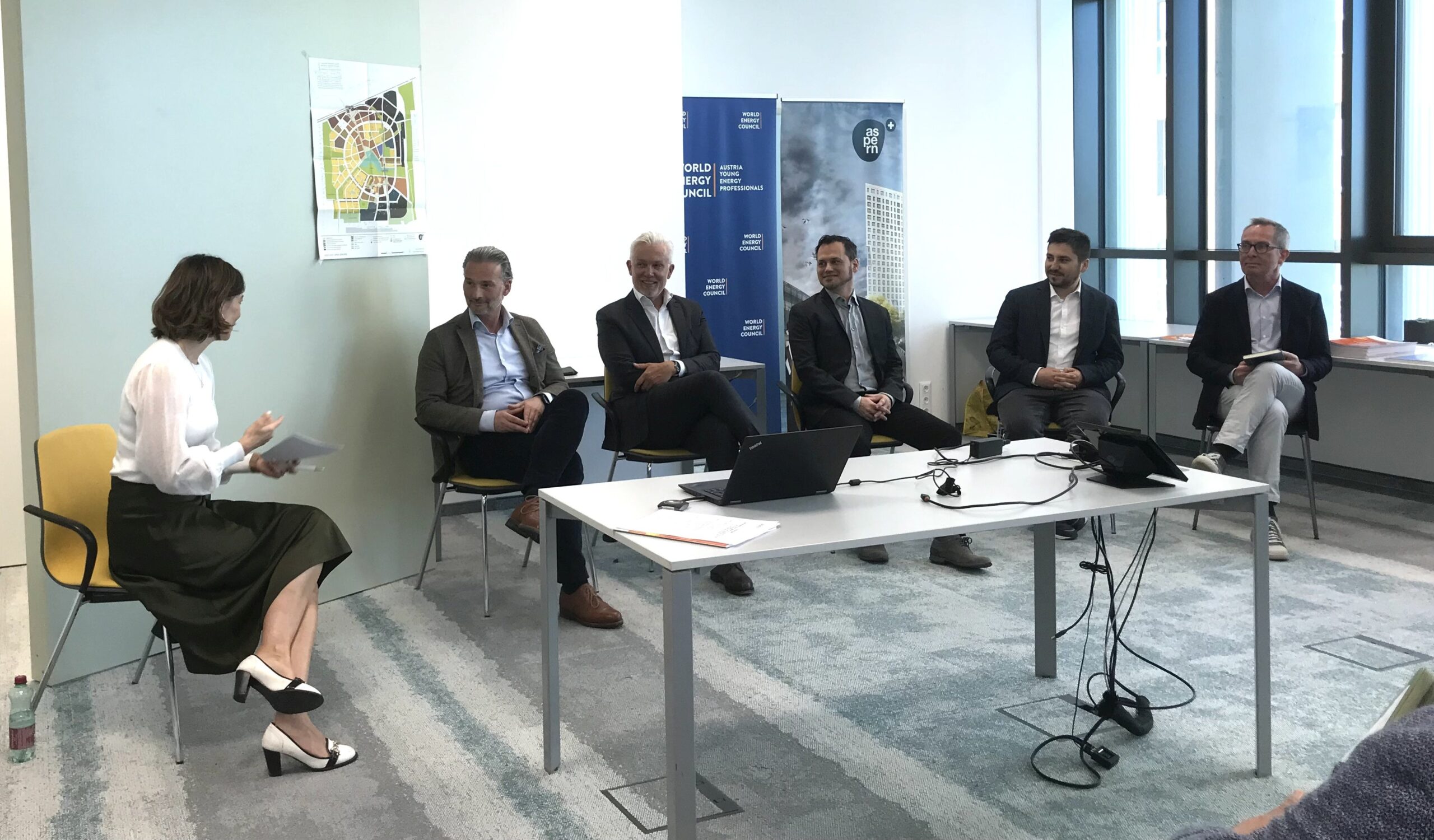 A project tour of the Technology Centre of the Business Agency, explained by Mr. Robert Hammerling, ASCR Research, rounded off the event and provided a unique insight into the technical implementation of the energy supply concepts previously discussed. At the end, a "get together" of the participants took place.
We would like to thank all participants and ASCR for the great cooperation!