SUSTAINABLE ENERGY POLICY: WE HELP SHAPE IT!
Achieving the climate goals requires new, innovative solutions that are only possible through the exchange of knowledge as well as the involvement of various stakeholders.  WEC Austria plays a key role in this task, as our Young Energy Professionals Programme is an absolutely central building block in achieving these goals. The YEP programme offers young energy professionals the opportunity to actively shape the future through their ambitions and innovations. As part of the current third cycle, which opened in February 2021, a YEP status discussion was held on 2 March 2022 with the YEP Board and our 60 YEP participants. It allowed for an exchange between the working groups and gave each working group the opportunity to present results so far. The YEP Board, which includes the working group mentors, was also able to share their insights on the projects.
In his welcoming address, WEC President Dr. Michael Strugl emphasised the relevance and importance of this future programme. Especially in view of current events, cross-disciplinary and international cooperation is more necessary than ever. Milica Vujačić, YEP coordinator, presented an overview of the past year in the current YEP cycle. Afterwards, each working group was able to present the current status of its work and further approaches.
The working group on the digitalisation offensive of the energy industry is dealing, among other things, with the influence of digitalisation technologies on energy supply companies in order to develop guidelines for them for the future. The working group on business models beyond pure energy supply analysed the changing market requirements and their connection with both existing and future value chains. In the working group on barriers to innovation in the energy sector, great emphasis was placed on practical experience through expert interviews for research into the current innovation landscape. A focus on the future viability of hydrogen in so-called hard-to-abate sectors was set in the Green Hydrogen Working Group. The aim of the Climate Neutrality working group is to make a significant contribution to energy education among young people. The working group Energy Efficiency as a Market Opportunity addresses the relevance of industrial waste heat utilisation. The Oil and Gas Sector in Transition working group addressed, among other things, the possibility of rethinking carbon dioxide as a waste product into an economically reusable substance.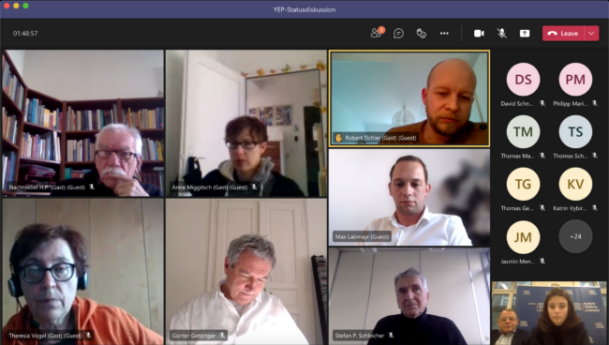 In his closing remarks, Dr. Robert Kobau, Secretary General of WEC Austria underlined the future-relevant work that the YEPs are doing and thanked the YEPs and the YEP Board for the great cooperation.
We thank all YEPs for their continued participation and the YEP Board for their support!