WEC AUSTRIA YEPs AT VOESTALPINE
On May 6, 2022, a voestalpine plant tour was held in Donawitz followed by a final presentation of the YEP working group "Industrial Processes", organized by Ms. Milica Vujačić, YEP coordinator of the WEC. The event took place within the framework of a cooperation between the World Energy Council Austria and voestalpine. After the welcome from voestalpine and WEC Austria by its Vice President Dr. Michael Losch, DI Dr. Franz Kainersdorfer, Member of the Management Board of voestalpine AG, presented the "greentec steel" initiative for green steel. In doing so, he emphasized the role of voestalpine as a total system provider, which aims to reduce its carbon dioxide emissions by 55% by 2030. During the subsequent tour of voestalpine's wire rod mill, participants had the opportunity to experience the operation of the steel plant, which permanently stocks 500 steel grades.
The second part of the event consisted of the final report presentation of the YEP working group "Industrial Processes" of the second YEP cycle. This was presented by Ms. Vera Fahrnberger, a participant in the YEP working group. Different strategic approaches to decarbonization of industry were described, such as electrification, the role of hydrogen, carbon capture and storage, and carbon capture and utilization methods. The respective challenges of each technology were also emphasized. In the following top-class panel discussion the topic was further deepened in the practical application by Mrs. DI Theresia Vogel, Managing Director Climate and Energy Fund, Mr. DI Mag. Martin Graf, MBA, Director of the Board Energie Steiermark, Mrs. Univ.-Prof. DI Sonja Wogrin, Head of the Institute for Electricity Economics and Energy Innovation TU Graz and Mrs. Mag. Vera Fahrnberger, Consultant in Trading and Sales at Oesterreichs Energie. Assoc. Prof. DI Udo Bachhiesl, Deputy Director of the Institute for Electricity Management and Energy Innovation at Graz University of Technology, moderated the discussion, which focused, among other things, on the need for a clear socio-political opinion with regard to our energy supply. In this context, public acceptance represents a central building block of the energy turnaround, in addition to modeling, simulation as well as the expansion of electrical energy networks.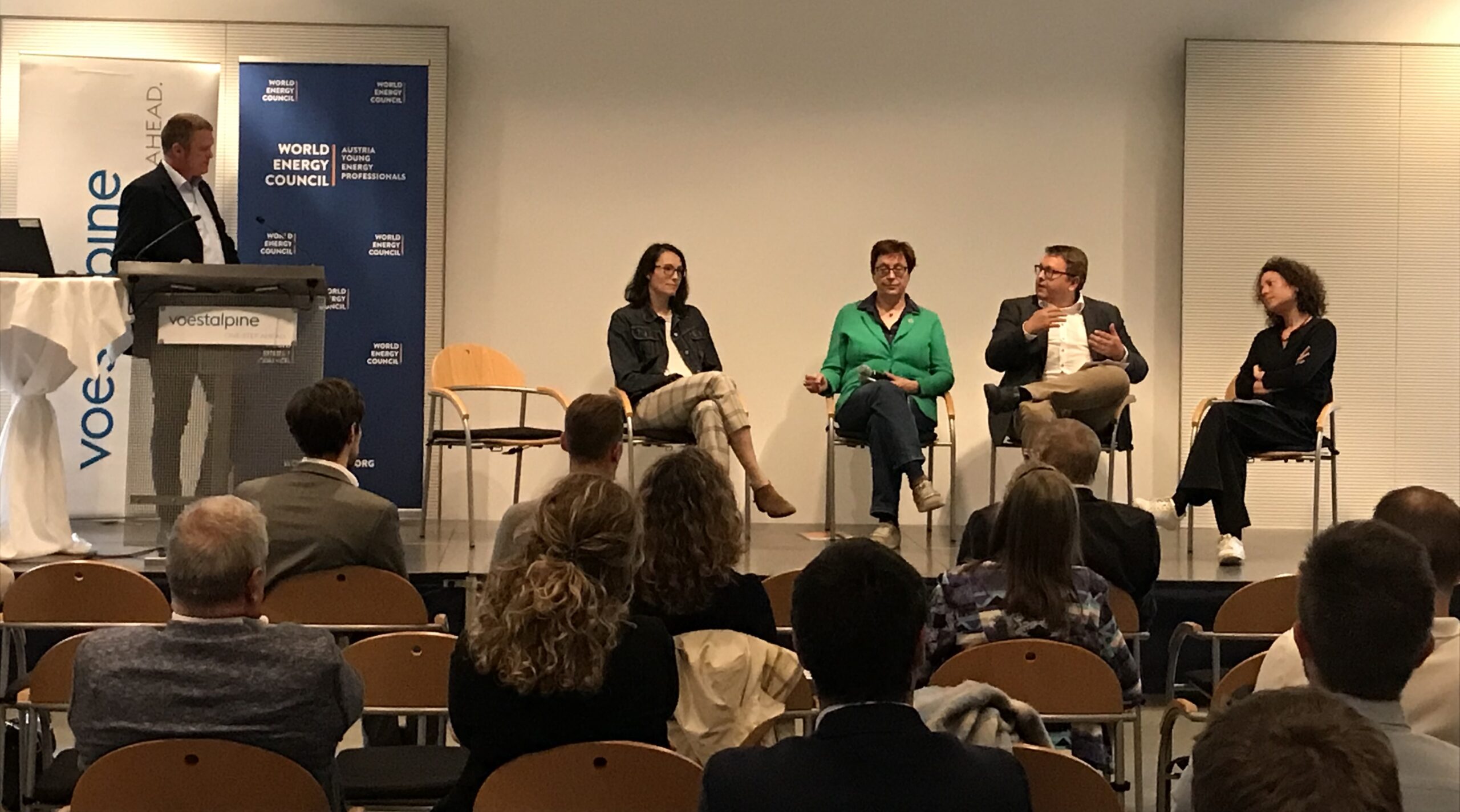 Finally, after the closing remarks of Dr. Robert Kobau, Secretary General of WEC Austria, a "Get Together" took place.
We would like to thank all participants and especially voestalpine for their cooperation and hospitality!